For two weeks we had a lovely, sunny holiday in England. Starting off in Nottingham, visiting Ruth and Brookln Dekker of Rue Royale in their cottage, where they were in the middle of recordings for their new album. Roland did some photoshoots of them in the city and in the nearby Peak District, while I enjoyed the landscape and the sun.
After three days of making photos and drinking cider and shandy, we took the train to Bath. We were already amazed when the train entered the old city. Everything was so well kept in the same style, colors as the oldest parts of town, the Roman and 'Georgian' parts. We walked a lot around town, visited the Roman baths, drank coffee in Italian cafe's – even our 'very romantic' Old Mill Hotel (with a fake watermill)  didn't have coffee that could actually be consumed.
A trip to Stonehenge was also obligatory, of course. I didn't know that this mystic place was/is also surrounded every year with the most advanced crop circles, with huge white horses on hillsides, numerous barrows, and modern army tanks…. An interesting place for sure.
The next stop for some days was Oxford. By accident we had booked a hotel far away from the city and after some travelling around and Roland almost dying of the photo equipment he had to carry around, we decided to cancel the booking and take a room in the hotel/pub 'The Black Horse' in a small town called Thame. It didn't matter that under our room they had a disco night, because all the walking and Italian food made us sleep perfectly anyway.
New day, new chance. A hotel in Oxford near the station made life a lot easier. The city of  Church Colleges, Harry Potter, (again) statues statues statues, bicycles and pubs. Not a difficult surrounding to spend some nice days – and take again hundreds of pictures ;-).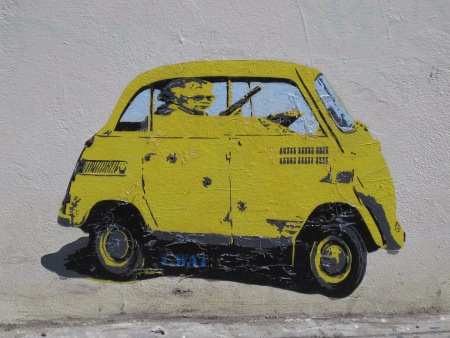 The last five days we have been in London, in a crappy youth hostel in a perfect area: Westminster, near the Hyde Park. I think all together we spent most time in the Hyde Park: for coffee in the morning, for nice walks in the evening, or just to cross it to get to some touristic hotspot like Buckingham Palace. There were many kinds of birds – even parrots! – squirrels, and elephants (from the Elephant Parade, nicely painted statues seen all over town.)
For streetart we had to visit some less high class areas, which we did find on the last day. Banksy can mainly be found in shops nowadays…