Do people on the Balkan like the 'Balkan beatz' music which is lately so popular in the Dutch concert scene? Yes! At least in Sofia they do, because we attended there a great concert . You just have to dance….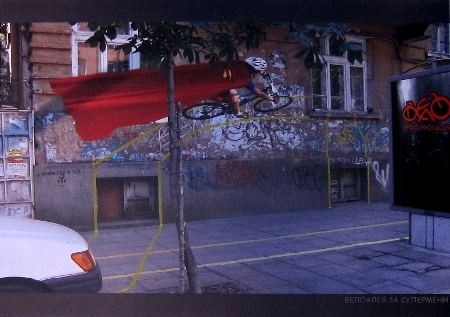 Last weekend we – I and three friends – returned from a round trip on the Balkans. We visited Bulgaria, Macedonia, Albania, Montenegro and Bosnia.
It was impressive, it was beautiful. Mountains, lakes, forests, castles, restaurants, bars, Turkish coffees, beers in all local flavors. And a lot of taxi's and buses to get to all these places.
In Bulgaria – after a few days Sofia – we stayed in a small mountain village for a while. No electricity, water from the springs, warmth from the wood stove and from rakija (kind of wodka). Wolves howling in the night. Ok, two of them, plus a bear, were kept in a nearby open air shelter, saved from a zoo. The few – at the moment in total around 800 – free bears left in Bulgaria risk to be shot for their 'body medicines' which they are storing in preparation before winter sleep. The people who hosted us were driving around in a van with a huge photo of a bear on it. They are running an ecocentre in this remote village. They  are building the house in eco-style, teach about nature to youth, and try to prevent more bears from getting shot… The hard day work is rewarded with fresh food, quite some alcohol and this time also with a whole piggie in a pan, to celebrate someone's nameday.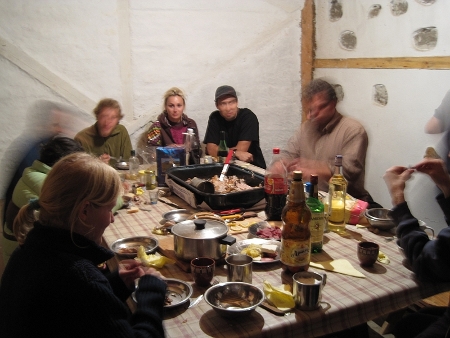 From this dreamy place we went down again in the morning fog (we got a ride from some people with a jeep) and took a taxi to the border with Macedonia. We walked across the border and entered in complete foggy mountain forests an almost empty border station. No taxi's here… A policeman ordered a taxi for us, took us inside and put us in front of a tv where on the news neighbours were running after each other with garden tools. The friendly policeman was going to prepare coffee for us, but the taxi driver already arrived. He was a kind man and asked a for us reasonable price, so we decided to cross the whole country with him. In the early evening we arrived at the touristic lake town Ohrid.
We hardly got out of the taxi when a Macedonian man on a mountainbike offered us an apartment. We decided to have a look and took the place for one night. I felt like I was on a holiday at sea. It was actually at the huge lake between Macedonia and Albania where famous battles against Ottomans took place, and where the Cyrillic alphabet was said to be first written down. The national dish seemed pizza and beer and after a whole day of travelling this sounded great. It didn't matter we were the only guests in the restaurant; we had exclusive service and a good meal.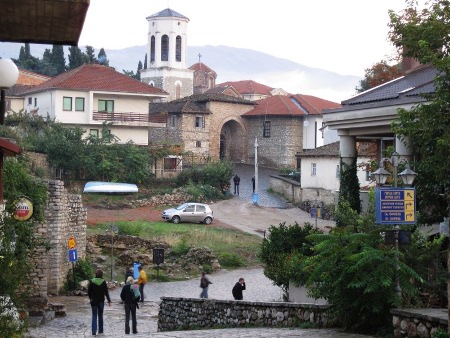 The old town with greek-like atmosphere was a nice spot, but the other side of the lake was calling us. We didn't have much time and really wanted to see this mysterious country of which I read such strange stories about wild mountain people and soviet-Yugoslavian-Chinese Stalinist politics.
Again we did the taxi-trick on the border-crossing. Again I felt like we were the only (western) people in the world actually, ever, crossing this border. Tourists? Yes…
On the other side we only saw a not-friendly taxi driver who said there are no buses to Tirana. We got out anyway at the first town (which looked like a Tbilisi suburb 10 years ago) and after some time a bus appeared. It took us about the rest of the day to reach Tirana, about 150 km from the border town. We went all along the coast, passed Durres, because the bus couldn't drive on mountain roads…
The first thing I noticed in the landscape were the small, round stone bunkers everywhere. A measure against an imaginary enemy when the dictator decided all other countries are evil. In every garden, in every piece of agricultural land these pimples showed up amidst the green and the garbage. What kind of place had we entered? What a mess, not a good first impression…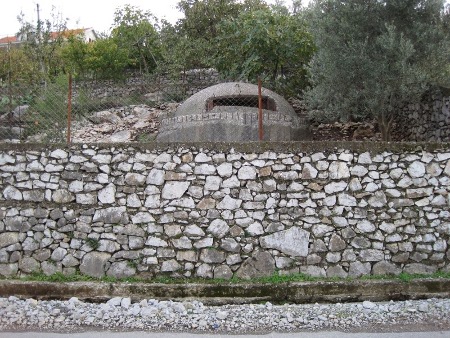 But like many first impressions: you can't trust them. The reality is more subtle.
Although the door on the bathroom in the 'backpackers hotel' in Tirana showed a note with a request not to take long showers because of the current ('at this moment') electricity and water crisis in the country, it became only once or twice dark for just a minute or so. The hostel was a nice, colorful, quiet, green oasis in the middle of a chaotic, noisy and smoggy city. There was a yard with terraces, canoes (?) and bikes and a small hut with a stove where the guests were drinking and eating around the fire. Very cosy. We even found great veggie food in a restaurant around the corner.
The next afternoon, after another long walk in the city, we took a bus to Skhodra, in the north of Albania. This place was really nice. Much less cars and much more bicycles.
Chaotic traffic anyway, but not so dangerous and dirty here. There were nice old streets with views on the nearby Albanian Alps. We stayed two nights in the for us luxury 'Hotel Kaduku'. There was also plenty possibility to go out to bars, but in the evenings they were mainly crowded by men drinking coffee and watching football. The call for prayer from the mosques would sound again at six the next morning… Because I hate football (and also don't like so much moustached men staring at me) I stayed home in the hotel to read.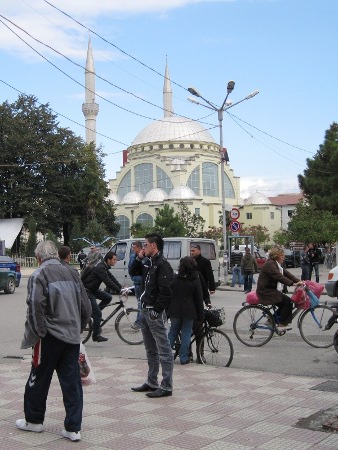 During a walk the next day to the castle and the lake (second time we hitch hiked this holiday, and without long waiting. The first time was to the village in Bulgaria) it was sunny and quite warm. Some good autumn days.
But time was running out. In one day we had to go from Albania to Sarajevo, because one of us had to catch a flight that night to Georgia. Taxi – taxi – bus – bus. Passing Montenegro and a part of Bosnia. Forests, hills, mountains, lakes, rivers, tunnels, snow, villages, bus stations. There were hardly 50 meters of straight road the whole journey. I tried to look through the front window to fight my car sickness but a very kind old Bosnian man sitting next to me was telling me stories all the way. Quite interesting, but I was glad to feel the street under me in Sarajevo!
We met our couch surfing host (from a network of people offering and asking for sleeping places at private homes) and some other members in the city centre and went to a few pubs together. Apart from the street children stealing our beer we had a nice evening out. Our host appeared to be a Turkish guy who just did his PhD in computer science in Seoul, and came to live here recently in a suburb (called village by the Bosnian friend).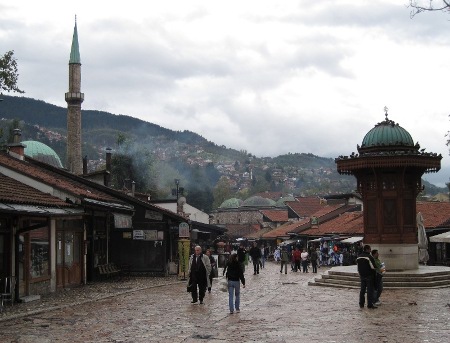 The next day we walked around the city, drank Turkish coffee in the old town, shopped for some illegal discs and visited an exhibition about the war in the nineties: impressive with not only the bloody details but also the 'normal living stuff' during the war like how people passed the time in their houses and how the War Theater Group was making performances in the middle of ruins – and made nice posters to advertise for it.
Thanks to previous couch surfers we found a good vegetarian restaurant, after which we went to a rock cafe of which we wished we had it at home as well. (First according to ourselves and later we read in the Lonely Planet exactly the same description!)
The music, people and beer were great but we HAD to check the Balkan cafe for one beer before going home, because everyone was recommending this place to us. One beer became some more, and we danced until we – again- were almost the last people present. It was a perfect last day of our Balkan Tour.